Virus Maker
The Virus Maker is a virus construction tool for creating a custom viruses with the options you prefer!
Screenshot: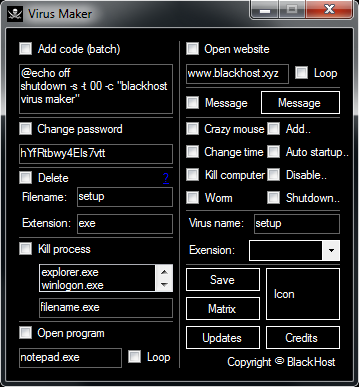 Features:
Change password
Change virus icon (executable only)
Delete specific/all files
Kill process
Matrix
Message box
Open program
Open website
Own batch code
Save as an executable file
Save as batch file
Various functions
MD5-Checksum: 749debe7e1a1b6cb843e8f2f34c73f6e
Download count: 14009
You can download* it from this link.
*=By clicking 'Download' you accept the Terms of Service.
Your download will start in 4. If the download didn\'t start, click here. Thank you!
Comments
Leave a feedback or read the others!
Older comments: page 1 2 3 4 5 6 7 8 9
~100000 monthly impressions.