Virus Maker
The Virus Maker is a virus construction tool for creating a custom viruses with the options you prefer!
Screenshot: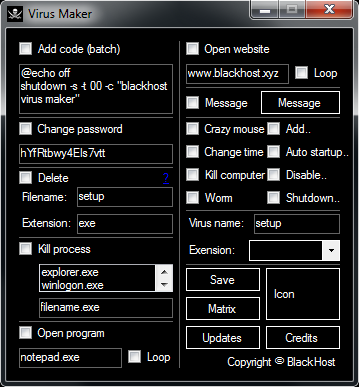 Features:
Change password
Change virus icon (executable only)
Delete specific/all files
Kill process
Matrix
Message box
Open program
Open website
Own batch code
Save as an executable file
Save as batch file
Various functions
MD5-Checksum: 7ea0bcf9168554244babecc389b02f6b
Download count: 91057
You can download* it from this link.
You can also download the
source code here.
*=By clicking 'Download' you accept the Terms of Service.
Comments
Leave a feedback or read the others!
Older comments: page 1 2 3 4 5 6 7 8 9 10 11 12 13 14 15 16 17 18 19 20 21 22 23 24 25 26 27 28 29 30 31 32 33 34 35 36 37 38 39 40 41 42 43 44 45 46 47 48 49 50 51 52 53 54 55 56 57 58 59 60 61 62 63 64 65 66 67 68 69 70 71 72 73 74 75 76 77 78 79 80 81 82 83 84 85 86 87 88 89 90 91