Bat to Exe
With this program you can easy convert batch files to executable files.
Screenshot: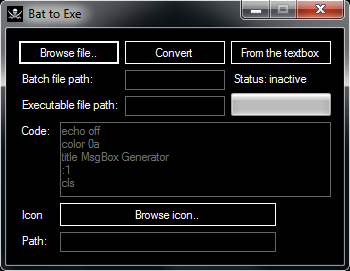 Features:
Change Icon
Convert from file
Convert from textbox
MsgBox script generator included!
MD5-Checksum: 7b2cb3d58fdc6162f7db9eb4ea789bf9
Download count: 135578
You can download* it from this link.
You can also download the
source code here.
*=By clicking 'Download' you accept the Terms of Service.
Comments
Leave a feedback or read the others!
Older comments: page 1 2 3 4 5